We strive to maximize shareholder value by leveraging our broad portfolio of leading industrial brands to deliver sustainable organic growth and operating performance, combined with a disciplined capital approach to enhance our customer centric solutions through strategic M&A.
Overview
Company Profile
We are a diversified industrial growth company with well-established, scalable platforms and domain expertise across two segments: Industrial Products and Specialty Chemicals. Our broad portfolio of leading products provides performance optimizing solutions to our customers. Our products include mechanical products for heating, ventilation, air conditioning, and refrigeration ("HVAC/R") applications, sealants, and high-performance specialty lubricants. Markets that we serve include: HVAC/R, architecturally-specified building products, general industrial, plumbing, rail, energy, and mining.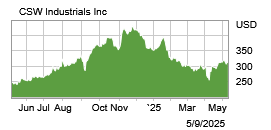 Data Provided by Refinitiv. Minimum 15 minutes delayed.
Recent Releases
CSW Industrials Announces Mark Bass Named VP & General Manager, Specialty Chemicals
06/01/21
Recent Events
05/20/21 at 10:00 AM EDT
02/05/21 at 10:00 AM EST